About
I love cats!  I love photographing cats and I love making cat art and crafts! Everyone kept telling me if I got one more cat I would be a cat lady, so I got another cat and made it official and became an Official Cat Lady.  I'm also a photographer, retoucher, bobbin lacer, and cannabis advocate.   My images are usually of cats and my portfolio shows other subjects I enjoy photographing like bees and portraits.  As a photo editor and retoucher, I enjoy making cat art edits and am available for freelance photo editing and retouching. I also invite you to send me your cat pics to turn into cat art!  Watch me make bobbin lace on Twitch Mondays and Thursdays!  I find and make the cutest bobbin lace cat patterns I can find.  My page Cannabis Cat Lady advocates cannabis and cats, and I blog about growing cannabis from seed to harvest with cats!  I also collect cat themed glass pieces and accessories which are available for purchase. Throughout this website and blogs I often refer to "we" The we is the cats and me. That's how we roll.
MORE ABOUT ME
I began my photography career in 2003 when I took my first photography class at LACC.  In 2005 I continued studying photography at Art Center College of Design and interned for celebrity photographer Art Streiber.  I graduated in 2008 with a BFA in photography and began my freelance photography career with my first clients including Pasadena Weekly, High Times Magazine, and CityBeat Long Beach.  I also spent my Friday nights at the KXLU studio taking photos of the indie bands that played live on the show, Demolisten. 
In 2010 I began donating my photographic talents to local cat rescues to help get cats adopted and I now have thousands of images of cats!  I also photograph dogs, but I take more pics of cats than I do dogs.  Today I volunteer at Shelter on the Hill in Lebec, CA.
I moved to the mountains in 2014 where learned how to make bobbin lace and added a new talent to my repertoire of craft making.  I also enjoy embroidery and quilting and I have many cat patterns and fabrics.  My projects are inspired by my cats and all the cute little faces they make.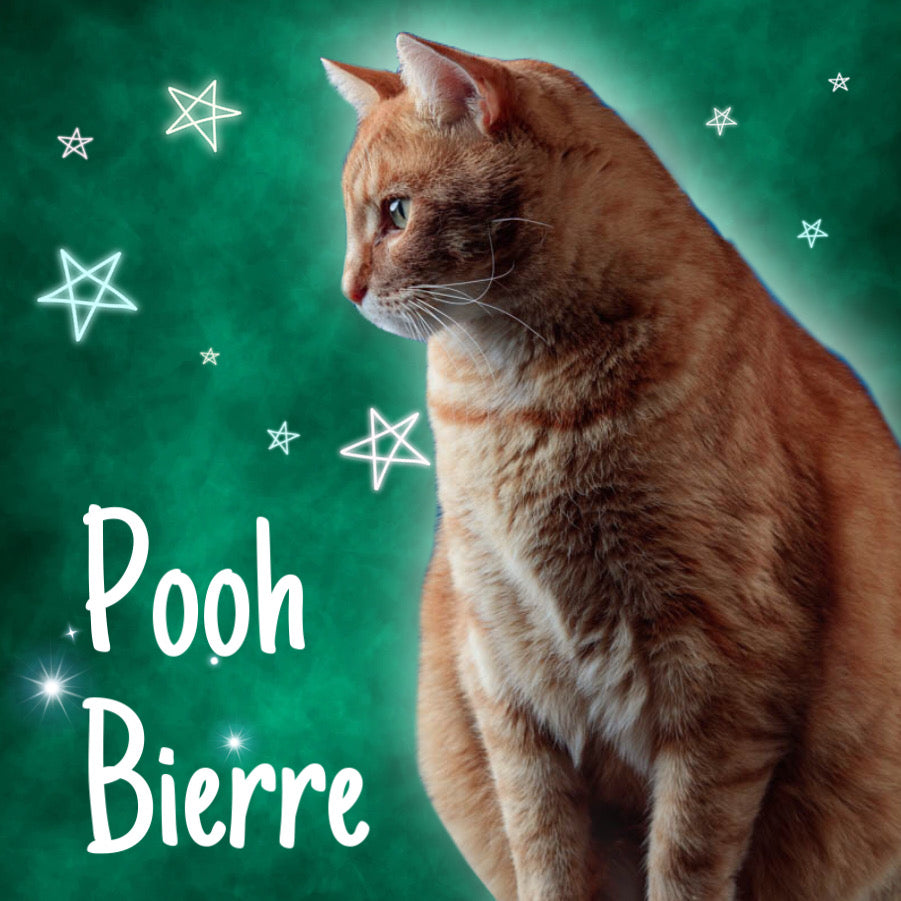 Pooh Bierre
Pooh Bierre is the eldest and kneadiest kitty who just wants a lap to nap in and a FULL bowl of dry food three times a day.  And twice at night. He eats too much and gets himself into trouble trying to eat the other kitties' food. His birthday just happens to be on 4/20 and we celebrate it every year!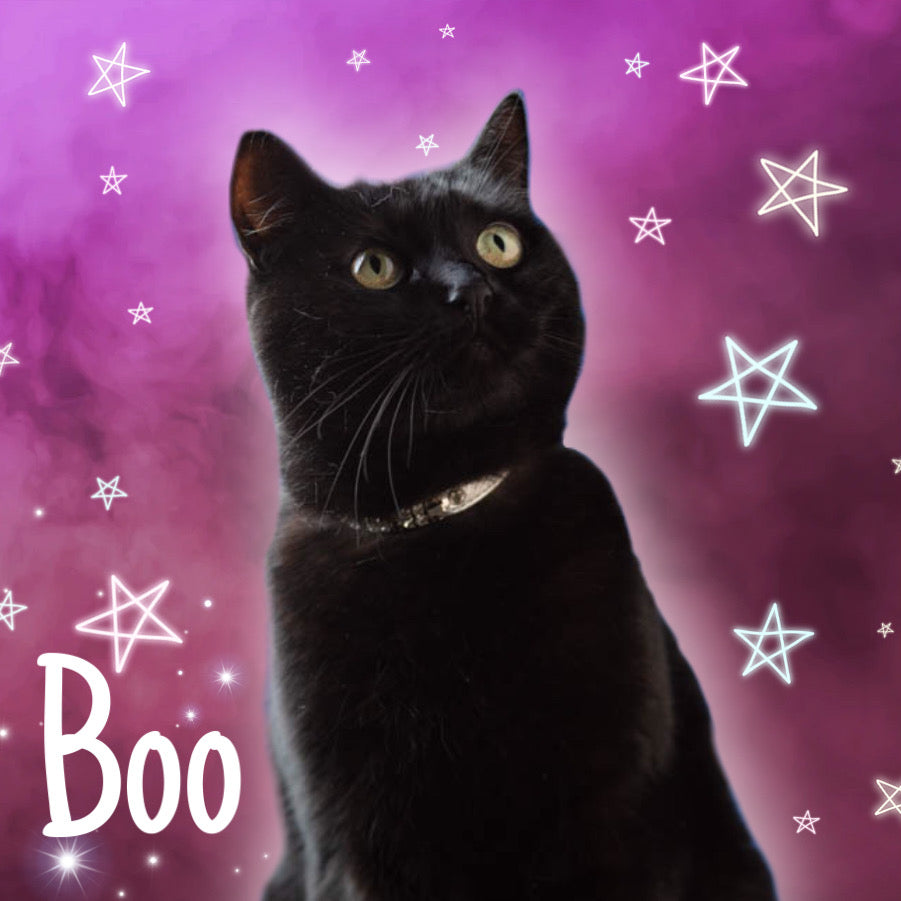 Boo
Boo spends most of her day tending to her catnip and catmint. Boo's Organic Nip™️ is popular with all the kitties and she's been seen on the counter near the tea kettle, purrhaps making a little cup of Boo's Organic Nip Tea™️. Boo is around the same age as Pooh and the two were kittens together.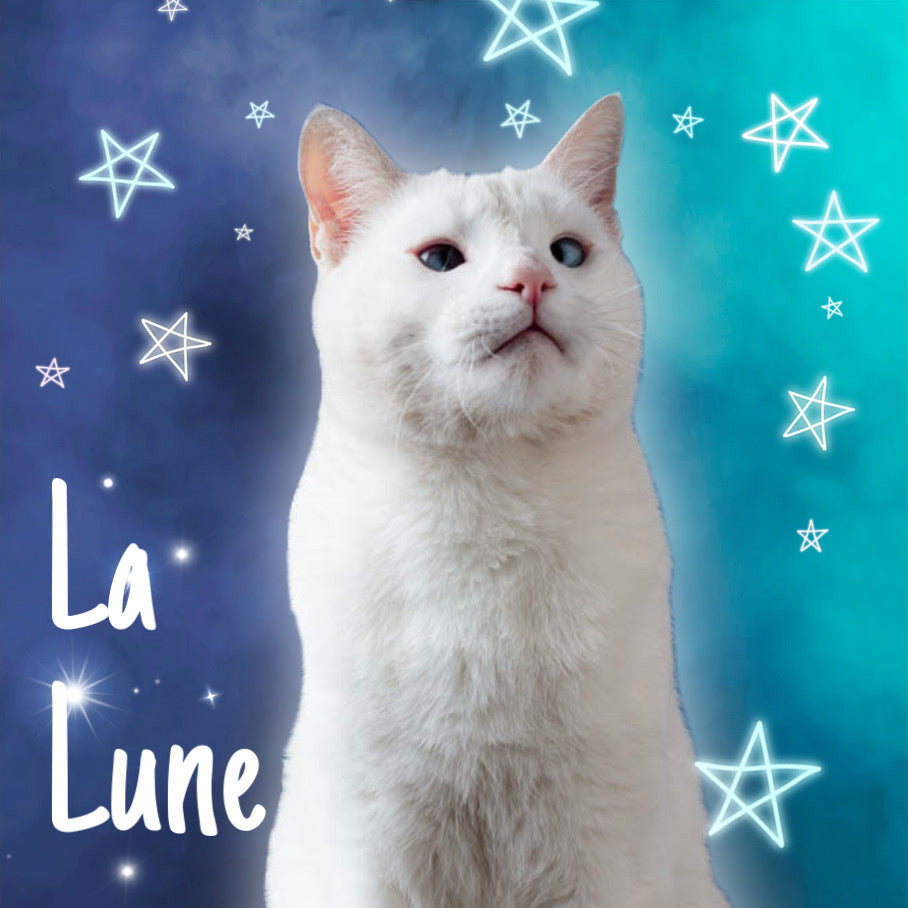 La Lune
La Lune would prefer to spend his days outside, (weather permitting) climbing trees and chasing critters. He loves long walks around the block with his pack, and he knows all the neighbors. La Lune was adopted from the Shelter and is semi-feral. He knows where his food bowl is.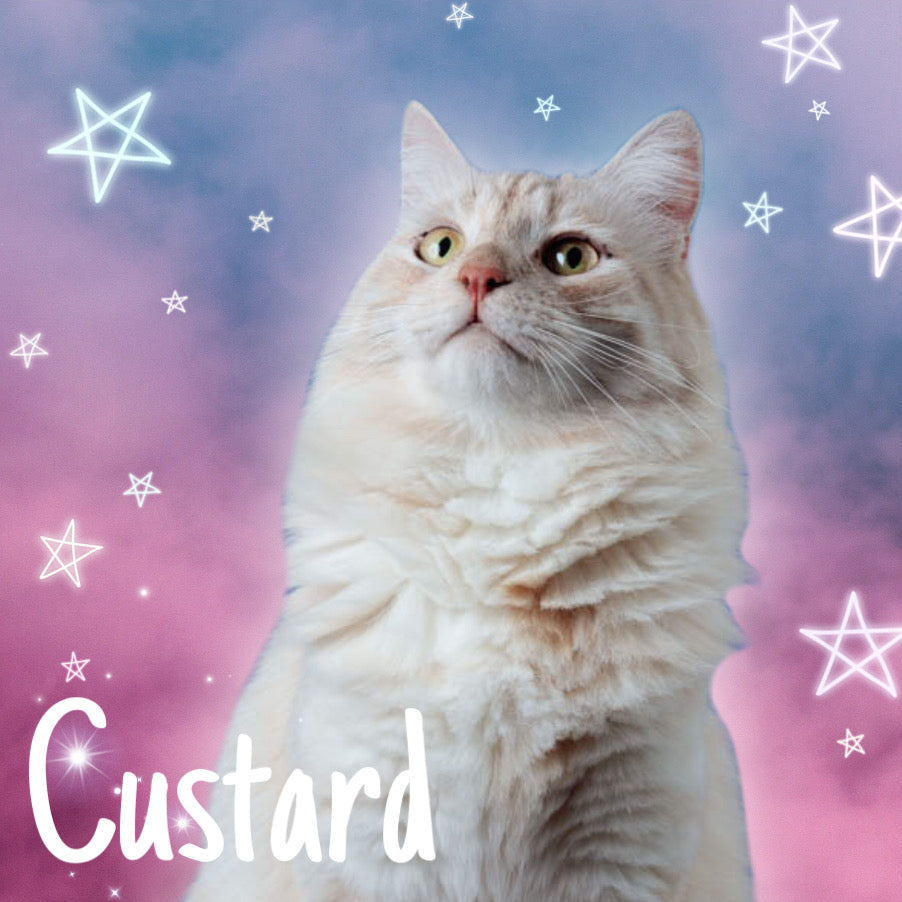 Custard
Custard is also adopted from the Shelter! One of the perks of volunteering in animal rescue is first dibs on the cutest pets. Volunteer at your local shelter today!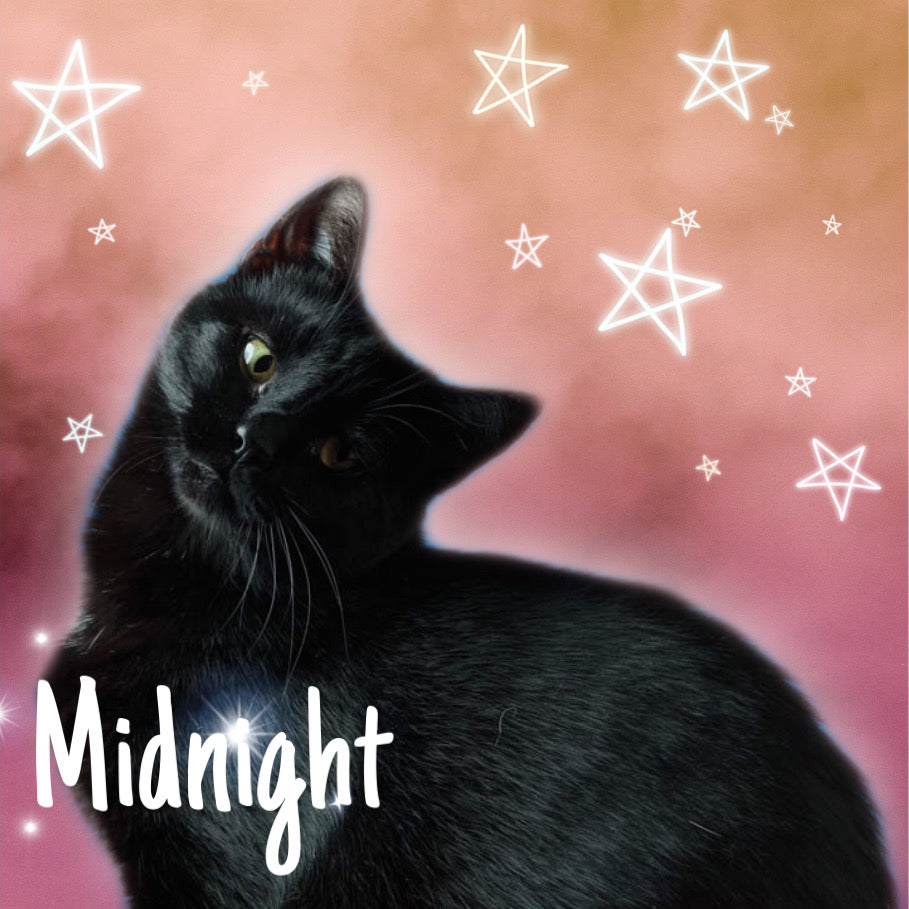 Midnight
Midnight is a little terror who knocks over all the stuff on the shelf and isn't afraid to speak her mind. She's a chatty Cathy and is very demanding of her pets. She also drools when she purrs. Midnight has a green thumb and tends to the grass. Probably because she was found in a lawn at a few days old.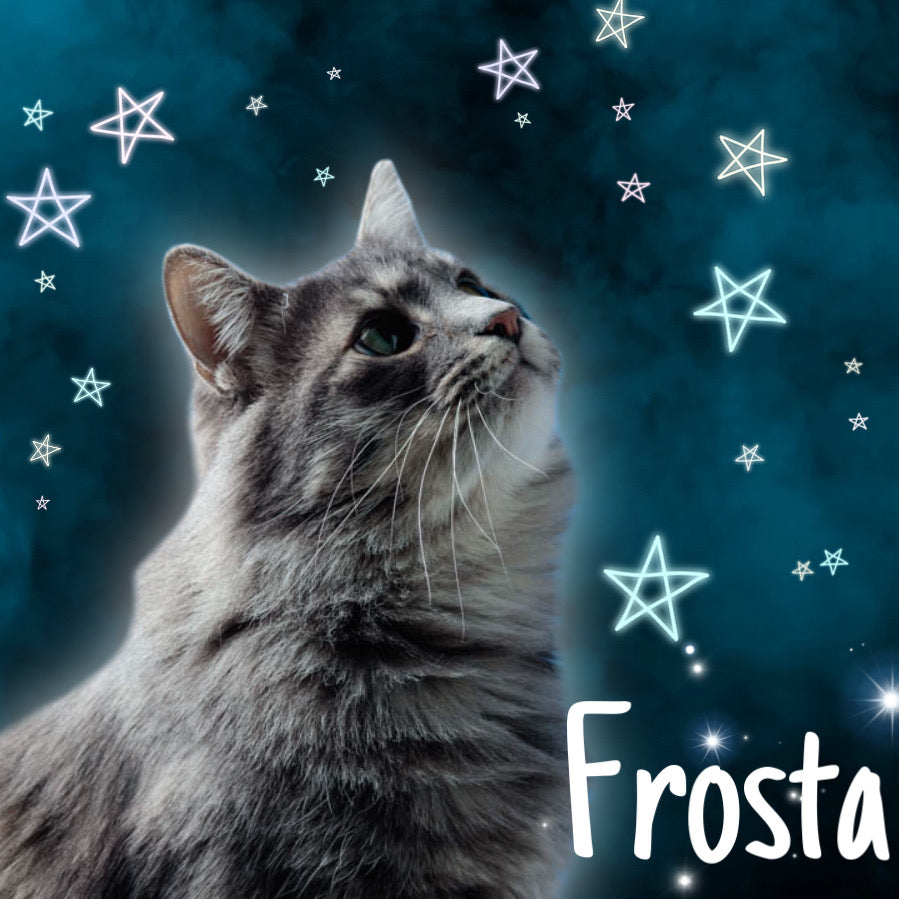 Frosta
Frosta was found in the same lawn as Midnight at the same time too. Frosta would rather you didn't pick her up, just don't. She'll come to you when she wants pets. But head pets are ok. And chin rubs. And head scratches. And chin scratches.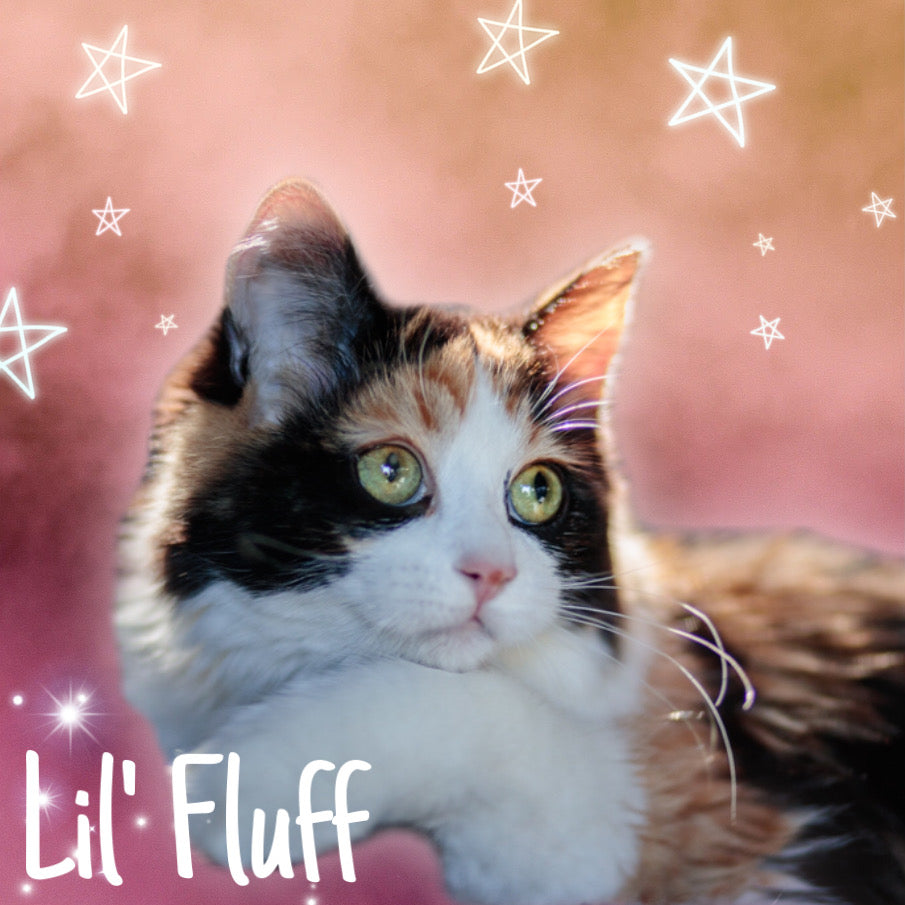 Lil' Fluff
Lil' Fluff is the youngest and sassiest. She was found in a box outside of the pet store and has been treated like a princess ever since. She enjoys her morning parfait of yogurt and kibble, and if possible, she would like that in bed.